Students develop sustainable business concepts in grant-funded summer program
This year's group's idea was to use shell waste from pecan and hazelnut manufacturers to create a soil dressing for potted plants.
Posted By: Megan Kita
Tuesday, August 16, 2022 09:49


Eli Coopersmith '23, Gabriel Stein '25, Jacklyn Hernandez '23. Photo by Lizard Foley '24
On a recent Friday, Eli Coopersmith '23 and Jacklyn Hernandez '23 stood outside their garden store to talk to customers about their business concept, Nuts About Plants. Developed with Gabrielle Stein '25, this concept uses shell waste from pecan and hazelnut manufacturers to create a soil dressing for potted plants to retain moisture and promote growth. It's for companies that want to do and look good.
"We got very positive feedback," says Coopersmith, a computer science major who didn't major in innovation and entrepreneurship. "Actually, we got about five customers to put their names on the list. [to receive updates]They wanted to buy it immediately. "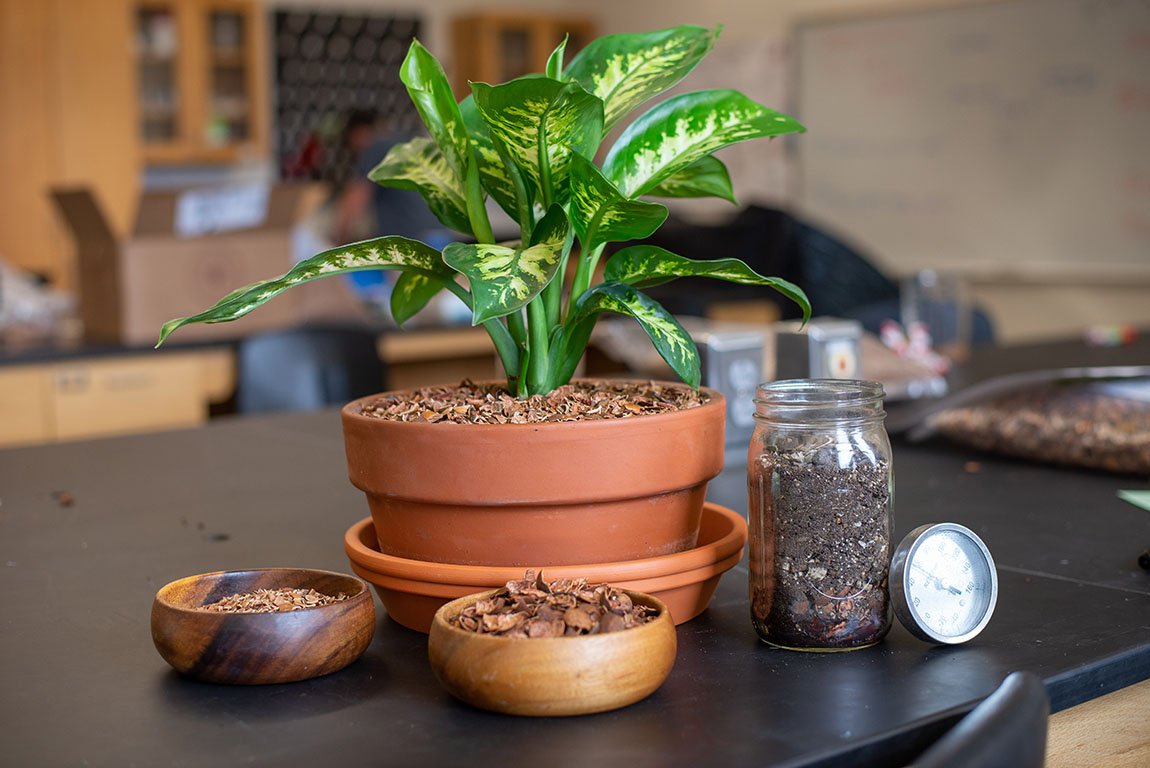 He and Hernandez went to the store to learn about the potential audience for Nuts About Plants. This is a concept he was developing as part of his six-week summer program, The Seedbox, funded in part by his VentureWell grant of $30,000 for three years. This grant focuses on integrating innovation and entrepreneurship, and sustainability research to assist students in developing real-world business solutions to environmental and social issues. Supported by the Lemelson Foundation, VentureWell was awarded a grant last year To Rita Chesterton, Director of Innovation and Entrepreneurship and Professor of Biology, Director of Sustainability Studies, and Rich Nisenbaum, Chair of Rita and Joseph B. Scherrer.
Chesterton and Niisenbaum co-taught a new course, "The Future of Food," developed with the help of a grant this spring. In it, student teams identified sustainability issues related to the food system and came up with business concepts that might address them.
Stein's group of classes developed a concept that the Seedbox trio began working on this summer, but the original idea was to use shell waste as an outdoor mulch. I realized that such an idea is not feasible. It is impossible to use shell waste to produce products in sufficient quantities at competitive prices.
"In class, it was difficult to grasp everything in such a short amount of time," says Stein, a studio art major. "This seedbox program was like a normal job, every day from 9 to 5. We were basically doing research all day on our project. It was a lot of intensive and hands-on experience to understand what a project should be like.
While the soil dressing concept is more feasible and some have shown customer interest, Stein says the group still has some challenges to solve. is high, sustainable, and sturdy enough to hold its shell. I knew what I could see.
"We don't have a roadmap for this," says Coopersmith. "When I'm practicing entrepreneurship in class, it's like, 'We're going to do this part this week.' Next week, you're going to do this part. [When you develop a product], it is absolutely not linear. You can learn something even if you try something and it doesn't work. "