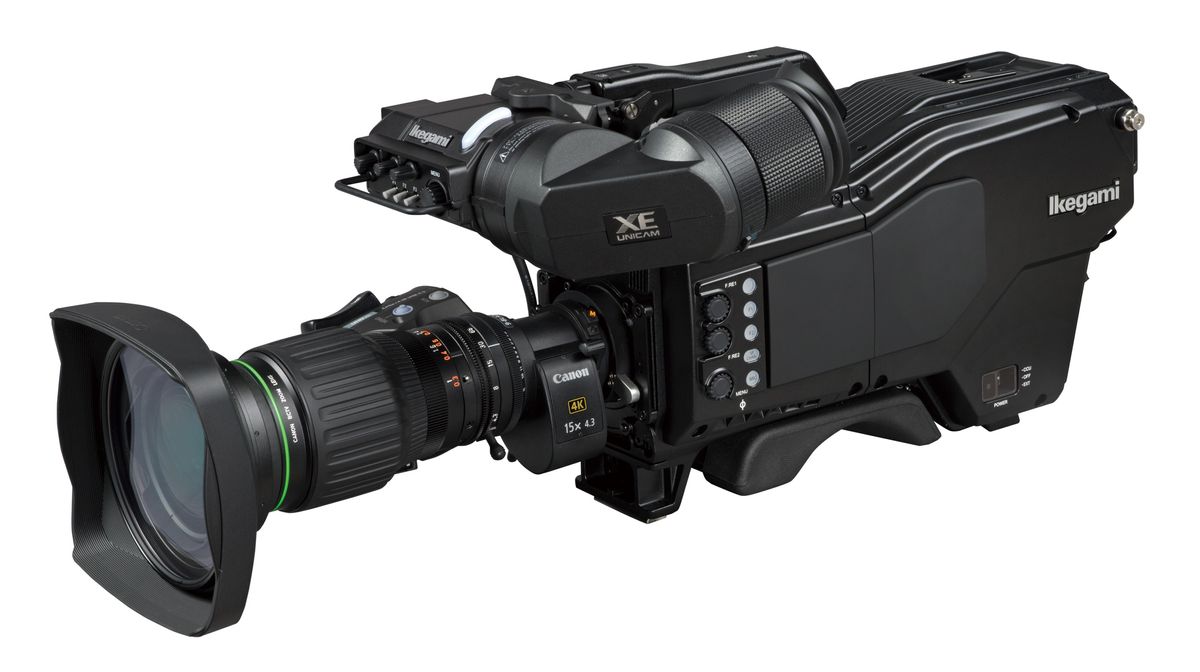 Neuss, Germany—Ikegami Electronics (Europe) announced at IBC2022 that it will be demonstrating the latest addition to its range of broadcast production equipment. (opens in new tab)RAI Amsterdam, September 9-12.
Products that IBC will debut at the Ikegami stand on 12.A31 include the UHK-X700, UHK-X750, UHL-F4000 cameras and the BSX-100 UHD/HD fiber base station.
"UHD, HDR, IP and HFR will be key themes for the IBC2022 presentation," said Michael Lätzsch, Broadcast and Professional Video Division Manager at Ikegami Electronics (Europe). "The migration from SDI to IP technology is gaining momentum in both studio applications and the OB sector. is in strong demand for its slow motion coverage."
The Ikegami UHK-X700 is a robust camera that combines high signal quality with versatile connectivity.
The camera supports HFR capture for slow motion and can be mounted on a pedestal or tripod, or operated over the shoulder. Its front end consists of three 2/3″ CMOS UHD sensors with global shutters to minimize artifacts when shooting LED screens and scenes illuminated by flash or strobe lights.
Includes full HDR/SDR support as well as the ability to choose between BT.2020 and BT.709 chroma spaces. Optional HFR capture up to 2x faster in UHD and up to 8x faster in HD. Combined with the Ikegami BSX-100 Base Station or Camera Control Unit CCU-X100, the UHK-X700 can output UHD/HD video formats simultaneously.
For base stations and CCUs, IP interfaces for video, audio, and intercom I/O conforming to the SMPTE ST.2110 standard are available as options. UHD video is available as a 12G-SDI feed directly from the camera head for integration into wireless systems. Weighing just 5kg, the UHK-X700 comes with a B4 lens mount and has a light sensitivity of F11 when running in UHD/50p.
Ikegami's UHK-X750 full studio camera also debuted at IBC, and the company said it has all of the UHK-X700's advanced features except those that apply to portable shoulder operation.
The UHK-X750 has a lower center of gravity and is easier to stage compared to portable cameras with telephoto lenses and supports. Additionally, the Ikegami UHK-X750 full studio camera features a design focused on ease of service and cool operation.
Additional IBC Premier includes Ikegami BSX-100 UHD/HD multi-format fiber base station
Ikegami's BSX-100 is a UHD/HD fiber base station. It provides an efficient upgrade path for broadcasters and production houses as they migrate from SDI to IP, SDR to HDR and HD to UHD, including HD/UHD dual format workflows. Designed as a multi-platform unit, the BSX-100 can be used with Ikegami HD and UHD camera systems and offers connectivity with Unicam HD or Unicam XE camera models, or both. SMPTE ST.2110 media over IP interfaces are available as an option for use across 10GbE and 25GbE networks. Supports HDR video that reproduces high-quality images from dark to bright areas, and comes standard with a wide color gamut. The BSX-100 includes HDR to SDR conversion and can operate in any combination of HD or UHD resolutions and SDR or HDR simultaneously. Housed in a 3U high, half-rack wide, low-mass unit, it can be easily integrated where space is limited.
Another IBC premiere is the Ikegami UHL-F4000 compact multi-roll UHD HDR camera.
The Ikegami UHL-F4000 is a compact and lightweight UHD HDR camera with low power consumption. Its small form factor and low weight of just 1.1 kg make it optimized for applications such as aerial video capture and studio robotics. Features include dehaze, image sharpening, vertical image flip, noise reduction, and digital zoom. The camera head uses three high-sensitivity CMOS global shutter sensors that completely eliminate the effects of geometric distortion and flash bands to capture broadcast-quality color video in a wide range of conditions, both day and night. . A 40 Gbps duplex fiber optic connection communicates between the camera head and the CCU, which can be placed up to 10 km apart. Optical fibers are integrated into one bi-directional core via an optical circulator and pass through a single-fiber optical rotary joint used in miniature gimbals. The CCU is compact, lightweight, and delivers HDR-ready UHD and HD video of him simultaneously.