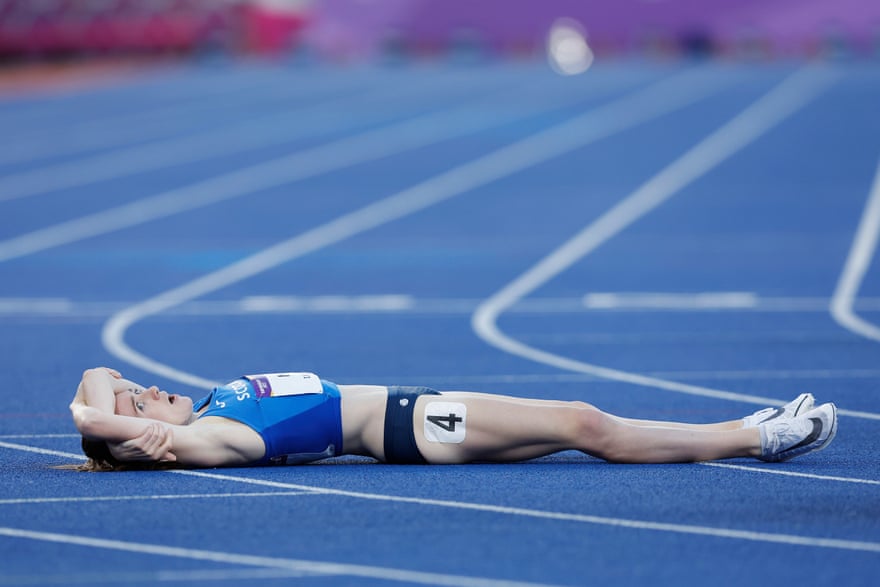 Poor Keely Hodgkinson. Also. And how the brilliant 20-year-old from Wigan, after becoming the victim of her most diabolical Agatha her Christie-worthy plot twist, shows off her outstanding talents to the major outdoors. You must be wondering if you can change the title to
At last year's Tokyo Olympics and most recently at the World Championships in Eugene, Hodgkinson took the silver medal over the 800m, facing off against the American prodigy Athing Mu. And here at her Games at the Commonwealth, there was more heartbreak as she fell victim to one of her most bizarre winning performances ever in her major championships.
It came from Kenya's Mary Moller, who fielded a quality 800m field in the first 350m, but suddenly dropped to the tail end. With 250m to go, Hodgkinson surged forward for the gold medal, while Moller fell back at least 10m and it looked like her race was over.
But then, surprisingly, Moller started picking up the wind again and picking up the rest of the field. The Kenyan still reached home in his straight in fourth place, but had another burst of energy and adrenaline as he beat Hodgkinson with a fast 1:57.07.
No wonder Hodgkinson, who had to take the silver medal in 1:57.40, was wiped out. "I've never seen her before," she admitted. "Everyone runs a race differently. I beat her last time because I wanted to be ahead of her in the last 200 meters. But her run is full of surprises."
According to statistics, Moraa recorded the fastest splits in the first 200 m (25.9) and last 200 m (29.3) across the 800 m field. But in the meantime, she also had her 400m at her slowest mid of 61.9. As Kenya later explained, her unusual tactics were not planned. I noticed," she said.
"Everyone passed me and I lost hope. I started to think that I could win a medal because I was out there, so I just kept pushing."
But at least Hodgkinson can return to glory at the European Championships in a few weeks. And she's determined to make it matter. "I'll stay mad until I'm on top of that podium," she added.
Scotland's Laura Muir was beaming after wearing her vest just before the line in the storm finish to take the bronze medal from Jamaica's Natya Goole in 1:57.87.
"My coach told me to go out hard, so I thought I did it, but I was still miles away," she said. I was 4th with 100m to go, but I was like, 'No, no, no. But my coach runs to the line, she said. And when he says yes, you do. But I crossed everything for photo finishing.I was dying for that line.
However, the photo was queried by the Jamaican, who finally confirmed Muir's bronze medal at 10:20pm. But now she's aiming for her gold medal in her 1500 m final on Sunday.
"I decided to do a double and not waste it if I didn't win a medal," she said. "I'm very happy, but I want the gold medal in the 1500m. Fingers crossed, recovery will be quick."
However, the night's performance was by Trinidad and Tobago's Jerem Richards. He glimpsed the clock proudly in his final 20m, but in a quick 19.80 seconds he won the gold in the 200m. This was not only his personal best, but also his Commonwealth Games record. But England's Jarnell Hughes was also happy to win the silver medal at 20.12.
Shortly after, Jamaica's Elaine Thompson-Heller won gold in the 100m with a tournament record of 22.02, Nigeria's Faber Ofili took silver and Namibia's Christine Mboma took bronze.
Elsewhere, on the penultimate day of athletics, Alastair Chalmers won a shocking bronze medal in the men's 400m hurdles on the track behind defending champion Kyron McMaster, Guernsey's first Secured a Commonwealth Games medal.
England also won gold in the Hammer, with Adam Haig and Harry Coppell taking silver and bronze in the pole vault behind Curtis Marshall.
Earlier in the day, Scottish world champion Jake Wightman went all out for many years in the Commonwealth 1500m final. But this time, his winning formula on Eugene didn't work. Because Oliver Hoare plummeted to death to win Australia's first middle-distance gold at these Games since Herb Elliott in 1958.
With just over 200 meters to go, Wightman was overtaken by Kenya's Timothy Cheruiyot and Hoare for the gold medal. "I wanted to make a statement, but I didn't feel as good as I did a few weeks ago."