venue:
Eugene, Portland, USA
date:
Friday 15th July – Sunday 24th July
coverage:
Follow live on the BBC Sports website and app
Is athletics a dying sport? Prizes keep dropping. Some matches are held in half-empty stadiums, and it feels like there's little coverage outside of events like this month's World Championships, Commonwealth Games, and European Games.
Despite the BBC broadcasting each Diamond League event on TV, Red Button, or iPlayer, the season is becoming increasingly difficult for the media to track. Events have been removed from these competitions to make the schedule more "quick". And long-distance races like mine are seen as 'too boring'.
The assumption is that the general public does not have the attention span to watch runners compete for more than four minutes. Be it cricket, darts or the same masses he happily watches Formula 1 races for hours.
people love to run. Just see how many people are parkrunning each weekend. Thousands of potential spectators see him run 5kms, 10kms, half marathons and marathons, but the vast majority never really follow the elite end of athletics.
But why is that? I can't imagine many Sunday League footballers not watching the Premier League. Maybe we should ask these individuals directly why they don't get involved in the elite side of the sport they love.
"Athletes are like horses. Can fans bet?"
I am wary of pointing out failures in our sport and not offering solutions. But recently, when I asked on Twitter what we could do to improve things, the response was inundated.
One of GB's top track athletes sent me a voice note.
he is on target. He may need to give people a reason to invest in competition. Sure, it runs the risk of corruption, but it puts a cap on your bets to make sure no one wins or loses crazy amounts.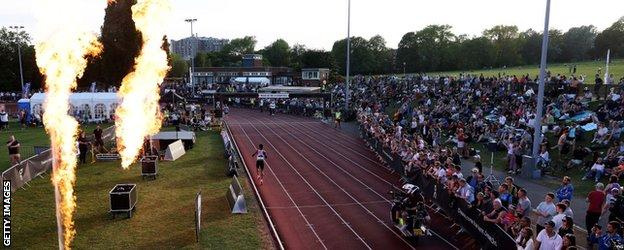 Perhaps it's not the event, but how they're presented? Check out Highgate Harriers' Night of The 10,000m PB. This turned the British long-distance run on the track into a celebration.
Just last month, over 1,000 people packed into a small, unpretentious truck in London. There were fire-breathers, dancers, magicians and lots of beer. Spectators participated in betting and could go crazy enough to invade lane 3 of the track. Players run through the beer tent! It sounds crazy on paper, but in reality it's a spectacle.
As a sport, we need more of this. So why not continue your pole vaulting in the streets and show off your shot put in the city center? You can divide the event into specific nights (distance, sprints, throws, jumps). Or you can meet in one day for a fun family run or a junior or masters event.
Or can we build a more specialized team backed by big sports brands? Just like we've seen in the US. Folks can follow their favorite teams and purchase kits throughout the season.
"We have to tell the stories of our players all year round."
Whatever the concrete solution, athletics needs better marketing.
Most people don't realize there are events happening outside of major championships. One amateur marathon runner told me on her Instagram that she wants to see more track and field, but I don't know when that will be.
We have to tell the stories of top athletes all year round. In 4 years he presents every event he attends, not just one. Formula 1: Drive to Survive has done just that. Why can't athletics do something like that?
What's really going on with the GB team? How do they react to their contract expiring? How do they deal with injuries? How do you balance being a mother and maintaining your identity as an athlete? How do drug tests work? We believe this is the only way to attract
It doesn't even have to be in full production. Governing bodies can hire a few videographers to follow some of their top athletes and upload videos to social media every week.
Live television coverage is also important. If you don't show it, people can't see it. I don't think I don't have enough time or desire to do live sports on mainstream channels.
BBC Sport aired the British Championship online with Red Button, but for me it should also air on the main network channel. We also need better promotion and findability, we need competition timetables, start lists and results.
Even a non-athletic like me has a hard time finding them all online, so can you imagine how difficult it must be for Joe Bloggs?
"Stop the negativity and emphasize the positivity"
Media plays a big role in all of this. The UK has some of the best female athletes in the world, but no one knows their names.Dina Asher-Smith, Katarina Johnson-Thompson, Holly Bradshaw, Laura Muir… Their performances can be seen on our main sports page. or channel.
But when athletics is featured prominently, it is usually based on negative content. I'm usually only asked for interviews when something bad happens. My parents are going through a nasty divorce. my house is broken I have been trolled online.
Last year I broke Paula Radcliffe's British record in the 5,000m and no one was interested. They were cornering me for comments on how they felt.
It is a hot topic among athletes. It's not about performance unless you're reporting bad stuff.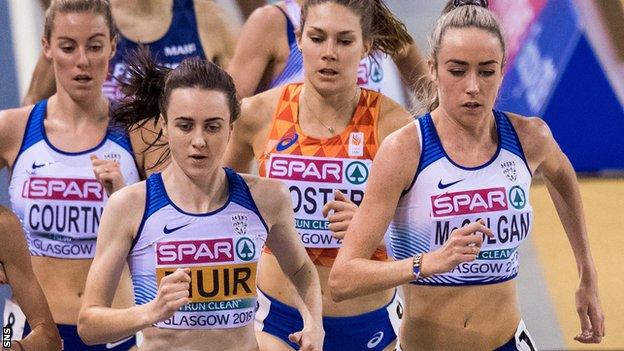 I remember joking when Laura Muir was fourth behind the three fastest women ever in a Diamond League race. Her times were ridiculous and she had her best run of her career, but I knew her report didn't reflect that.
We joked about what it says: "Muir is off the front" or "Muir isn't keeping up with the pace." We burst out laughing when they started coming by because it was like 'I left the podium with a disappointing run'.
That negative trend is starting to be seen as a reality, but Laura ran a British record, so why aren't the reports positive? may urge you to
And there has never been a better time for sports to do it. There will be not one, not two, but three major championships this summer. All of which will be broadcast live on his BBC and feature real medal contenders.
The UK has already hosted some great road races. Top notch worthy of a bucket list. London Marathon. Great North Run. Thousands of people register to stand on the starting line.
And there were more novice runners than ever during the pandemic. How do you get into that potential market? How do you connect the dots?
Athletics is a global sport with so many possibilities. All countries are represented. Everyone can see people like them competing.From hammer throws to marathons, there is an event for everyone, regardless of size or shape. How many sports can say that?
We need to start showcasing our amazing and unique sport. Report good stories, celebrate achievements and properly showcase to the world how great our sport is. Because it's not dead.