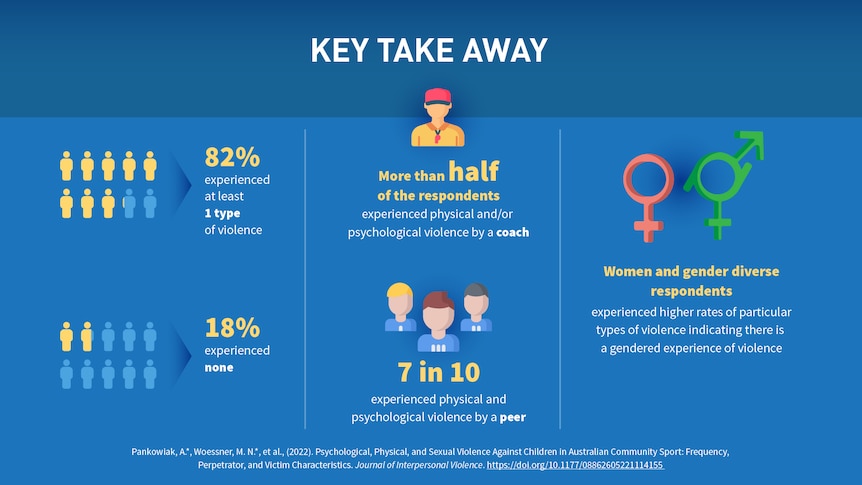 A study conducted by the University of Victoria found that 82% of those sampled reported experiencing at least one form of interpersonal violence when participating in community sports as children.
Key Point:
Three-quarters of respondents say they have experienced psychological violence or neglect in their child's sport.
73% said they had experienced peer violence and 66% said they had been beaten by a coach
Women are more likely to suffer sexual and psychological violence and neglect
The most comprehensive study of its kind in Australia, it asked 886 adults whether they had experienced childhood physical, sexual, psychological violence and neglect from coaches, peers or parents. I asked
Seventy-six percent said they had experienced psychological violence or neglect, 66% reported physical violence, and 38% reported sexual violence.
Meanwhile, one in three respondents said they had experienced all four forms of violence.
Respondents participated in a variety of sports, with nearly 70 participating.
While such a large number may surprise some, study co-author Mary Woessner said she was not shocked.
"From the literature and knowing what's going on internationally, I can say that it's correct about what we expected," Dr. Woessner told ABC.
"One of the first things you need to do to create change, positive change, is create an understanding that there is a problem.
"I just want people to know it exists so they can make evidence-based decisions to change it."
Dr. Woessner's co-author Aurélie Pankowiak explained that the study asked participants about explicit examples of violence they may have experienced in the context of sport.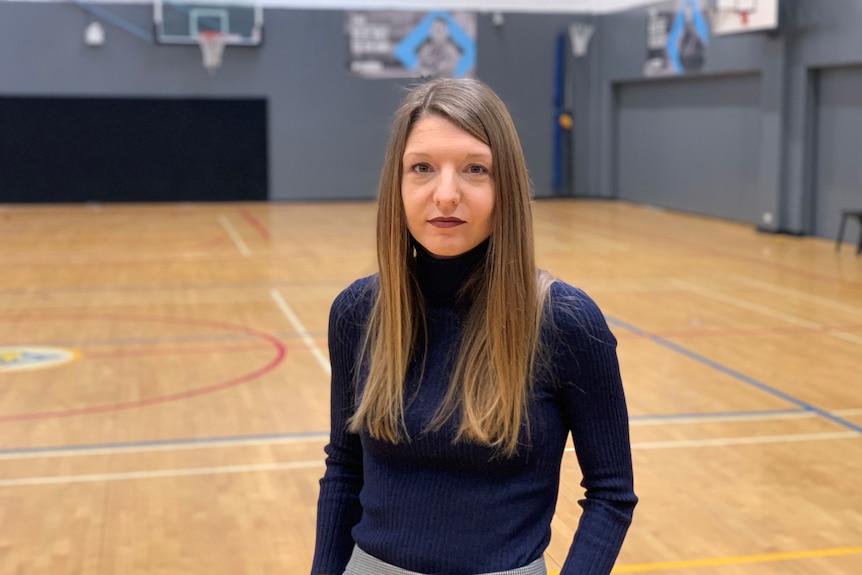 For negligence, for example, participants were asked if they had ever been denied time off because of an injury.
For psychological violence, participants were asked whether they had been insulted, threatened, or humiliated (e.g., bullied, given unwanted nicknames, or otherwise ostracized). ).
"We had very specific examples of different types of violence, so we didn't leave it up to the person to interpret whether what they were experiencing was violence," Dr. Pankowiak said.
One reason, the authors say, is that it can take a long time for victims to perceive their experiences to be violent.
"The average reporting period for sexual abuse can be 20 years or more," Dr. Woessner said.
"At the moment, we have a system that relies on children telling us what happened, while we know the majority of literature says it won't. [come forward] for years.
"So the easiest and safest way to collect this data in this study was to do it retrospectively. [by asking adults]."
Most children experience peer violence
First, the study sought to analyze children's experiences of violence according to who perpetrated it: peers, parents, and coaches.
This breakdown shows that 73% of respondents experienced peer violence, followed by coaches (60%) and parents (35%).
Dr. Woessner said it is important to distinguish who is committing violence because most academic literature and media reports usually focus on violence committed by elite-level coaches. rice field.
This includes high-profile cases like Larry Nassar, a former US Olympic gymnastics team doctor who is serving a virtual life sentence for sexually abusing at least 40 girls and women. will be
Australian swimmer Maddie Groves also recently filed an allegation that she was sexually abused by a former coach working for the sport.
"We can distance ourselves from Olympians who experience abuse and start thinking that it only happens at an elite level," Dr. Woessner said.
There's this mentality that "it's not my kid, it's not happening in my sport or my club"…but I think with this data, I can show you that it might be.
The data collected by Dr. Pankowiak and Dr. Woessner also show that there are large gender differences in the types of violence that men, women, and gender-diverse people experience in childhood.
Women were more likely than men to experience sexual violence and were also more likely to experience psychological violence and neglect.
Men, on the other hand, were more likely to experience physical violence from peers.
"Sometimes when we talk about gendered experiences, we only focus on women," Dr. Woessner said.
"But it's not that men don't experience violence, it's just that they experience different types of violence."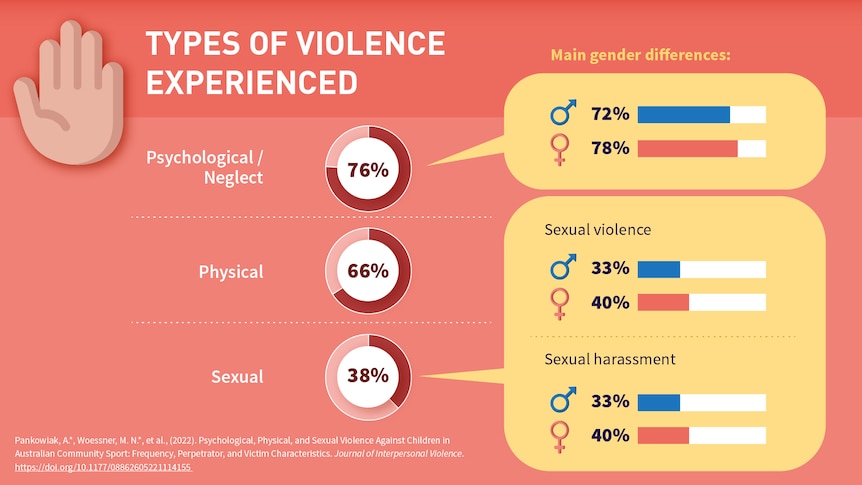 The authors also analyzed a third category, gender diverse people. This includes people who identify as non-binary, ask questions about their gender, or choose "I don't know" about their gender identity.
Although the sample size was small, totaling 17 people, the authors found that gender-diverse people were more likely to experience many types of violence compared to cisgender men and women.
"It is widely known from the literature that marginalized communities experience institutionalized violence," Dr. Pankowiak said.
What is less clear, according to Dr. Pankowiak, is how the experience of systemic social exclusion translated into interpersonal violence in the context of sport.
"We need to understand what is driving these rates," Dr. Woessner said.
"We are talking about gender diversity here, but we know that people from the broader LGBTQI+ community – culturally and linguistically diverse communities – are all at higher risk. Why? , I don't fully understand how that's happening."
"No First Aid" wake-up call
Although this particular study did not examine the effects of childhood experiences of violence, the authors said there is clear evidence that it can have detrimental effects throughout life.
"We know there are long-term effects," Dr. Woessner said.
"They often [victim survivors] leave the sport. They may simply leave the team they are part of, or leave the sport altogether.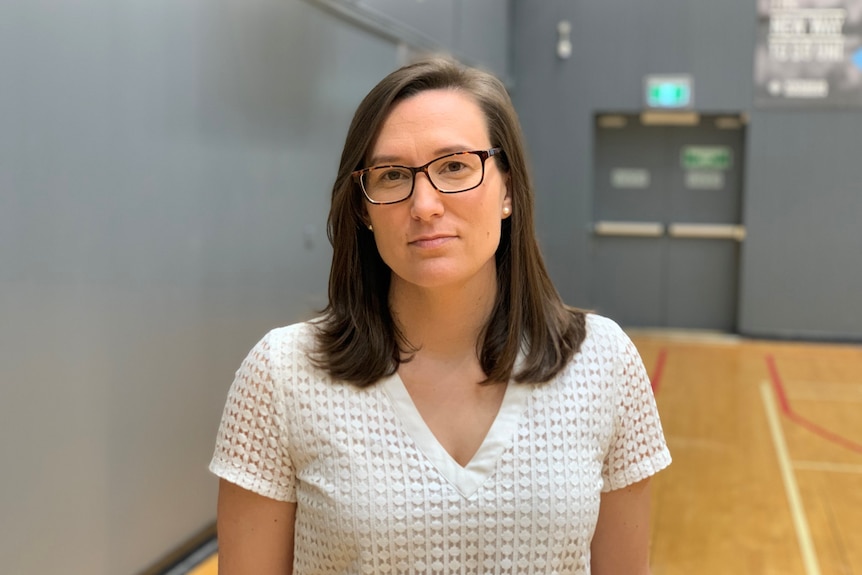 "Beyond the individual, we see families torn apart and communities torn apart.
"Community sports are run by volunteers, and when something like this happens, it affects not just the individual, but friends, family, and by default the community."
Going forward, the authors argued that early intervention is essential so that children and adults can continue to enjoy the many benefits sport has to offer.
"What we see in the data is that violence in sports is culturally normalized," Dr. Woessner said.
"It's systemic, it's not just one type of violence or one type of perpetrator, it's happening in all sports."
Dr Woosner added that while there is no "first aid", there are clear steps that sport should take to protect children.
"When we think about changing culture, we need to be one step ahead, not just in education or policy," said Dr. Woosner.
"We need to start from scratch and work with clubs on initiatives that are long-term and can create behavioral change.
"I hope that this data will begin to change public perceptions of the prevalence of these experiences in community sports, which in turn will move the sport into action."
If you believe you have experienced violence while participating in sport as a child, you can file a complaint through Sport Integrity Australia's online portal.
.