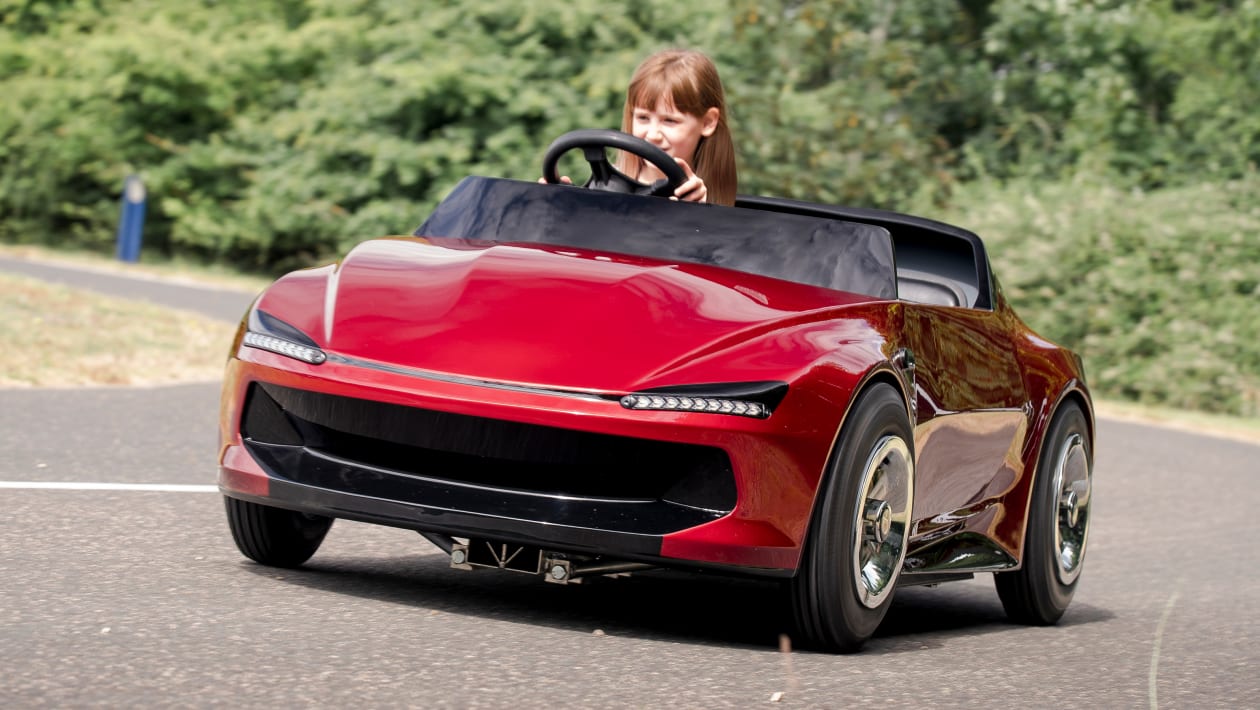 The new Firefly Sport was unveiled as an all-electric, all-British car just for kids to learn to drive. You must be 17 or older to drive a car on public roads, but there are companies that allow children to ride in. Sister company Young Driver Motor Cars has developed this new child-sized version of his EV.
Founded in 2009, Young Driver teaches children the importance of road safety and driving itself, with lessons at a dedicated training site. The new Firefly Sport has been specially developed to not only teach children to drive, but to give them an experience as close as possible to driving on public roads.
Designed for drivers ages 4 to 10, the Firefly Sport has a wealth of knowledge and experience. Ex-Aston his Martin and ex-Jaguar his Land Rover Steve Lawson and his MG engineer Dr. Ian Pogson were at the heart of the development of this car.
The chassis is made of aluminum with all-round independent suspension and rack and pinion steering. Beneath its striking supercar-like exterior are two he 12-volt batteries that power 24-volt electric motors. Top speed varies between 7mph and 25mph depending on driver age and ability. The car itself can be recharged with solar power, and the battery cells are bolted together for easy removal and recycling. It also has a 200-meter range remote cut-off switch that can automatically turn off if it senses an obstacle in its path.
With an optional roof, you don't have to rely on the weather to learn to drive the Firefly Sport. Inside the car are his three instruments: a speedometer, a clock, and a range indicator, as well as his rear camera and the pilot's lights for the turn signals, headlights, and taillights.
Ian Mlingari, Managing Director, Young Drivers Motor Cars, said: Starting this month, kids from 4 to his 10-year-old can get behind the wheel and have an authentic automotive experience. It is precisely this kind of commitment that the Young Driver Training Center needs to begin its journey towards improved road safety and ultimately prevent unnecessary road deaths. "
The Firefly Sport is also 100% British made. A Bromsgrove-based supplier is used for his 12-volt battery, and the electric motor is manufactured in Bournemouth. The body is made by Huddersfield and the chassis is made by Coventry. "Given the way the UK car industry is looking to become more autonomous by sourcing parts, we are definitely ahead of the curve!" says Mringali.
The Firefly Sport can be driven at YDMC training centers across the UK, but the public can buy the car outright (provided they have enough private land to drive it). YDMC also announced that a range of variants will be developed, including one for adults. Pricing for the Firefly Sport will be announced at the British Motor Show.
What are your thoughts on children learning to drive? Let us know in the comments…